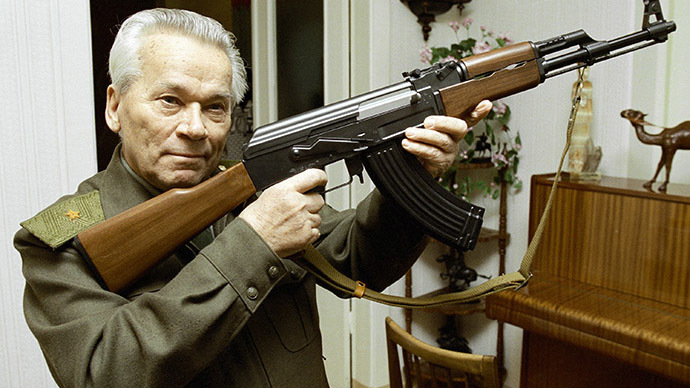 Mikhail Kalashnikov
Mikhail Kalashnikov died at the age of 94 in
Izhevsk in central Russia where he was admitted to a
intensive
care in November 17.
The official cause of death will be revealed following a mandatory autopsy.
A public funeral will be organized by the regional administration, in consultation with surviving relatives, though no date has been named so far.
Senior Sergeant Mikhail Kalashnikov
as he designed his AK-47
assault rifle. (RIA Novosti)
As a Senior Sergeant
engineer was determined to create a weapon that would help protect his Motherland in the earlier's 1940's WW2 he designed the most reliable and dependable assault Rifle ever made AK-47.
The AK-47 was adopted as the primary rifle of the Red Army in 1949.
More than 60 years later and the AK-47 is the most used Assault Rifle still today.
Initially, the Soviets provided both the rifles and the blueprints to make them just to their allies in its proxy conflicts against the West during the Cold War.
Soon enough, the USSR lost control of their manufacture. By the 1980s almost any revolutionary, militant, child soldier or armed terrorist was most likely brandishing a Kalashnikov. The Soviet Army was just as likely to see the other side using modified versions of their own guns, as any other.
Despite the damage the AK-47 has inflicted, Kalashnikov has remained unrepentant about his own brainchild.
"I invented it for the protection of the Motherland. I have no regrets and bear no responsibility for how politicians have used it,"

the inventor has repeatedly claimed in interviews.
source : http://on.rt.com/cxtesk